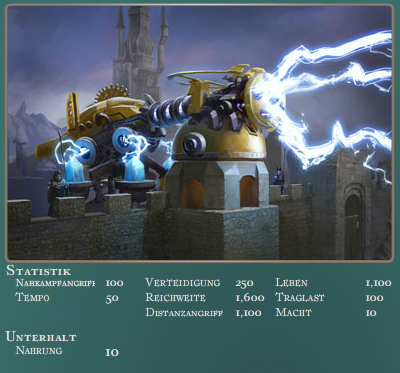 Diese Langstreckenwaffe kann elektrische Bögen überall auf das Schlachtfeld werfen, egal wohin. Die Distanz kann bei jedem Schuss verändert werden. Sie ist gegen die Wiederbelebung der Seele immun. Schaden +25% bei Sumpfkröten und Giftklauen. Schaden +100%, wenn sie als Verteidigung aufgestellt ist.


Ausbildung
Edit
Dies ist eine teure Einheit, welche Mengen von Metal und Gold benötigt: Für einen Blitzwerfer müssen bereitstehen:
10.000 Gold,
8.000 Metall,
3.000 Holz,
10 Blaue Energie,
Energieeinsammlung Lvl 10,
sowie die Schmiede Lvl 10.

Laut Kabam konnte diese Einheit nur bis zum 04.09.2012 ausgebildet werden, nun kann man sie nur noch bei Fortuna gewinnen.


Kampfeinsatz
Edit
Diese Einheit ist besser zur Verteidigung geeignet, als zum Angriff.

Der Blitzwerfer ist kompartibel mit gepanzerten Luftschiffen, Langbogenschützen, Pyrosauriern und allen Drachen, außer der Giftschlange.

Sie ist eine langsame Langstreckeneinheit, sollte sie dementsprechend mit kleinen Feuerdrachen, Kampfdrachen oder einer anderen schnellen Einheit kombiniert werden, treten immer Verluste auf.

Man kann den Blitzwerfer mit dem Feuerspiegel vergleichen, die Unterschiede sind gering.


Ad blocker interference detected!
Wikia is a free-to-use site that makes money from advertising. We have a modified experience for viewers using ad blockers

Wikia is not accessible if you've made further modifications. Remove the custom ad blocker rule(s) and the page will load as expected.