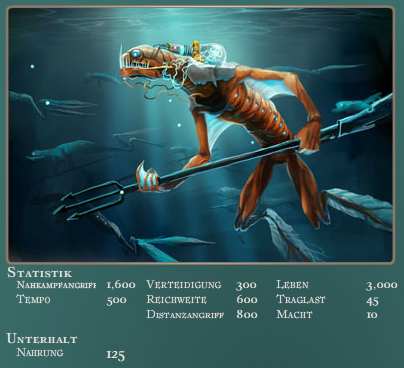 Die grimmigen Giftklauen sind der Schrecken der dunklen Tiefen von Atlantis. Das Gift in ihren Adern ist tödlich für alles Leben. Die Schwierigkeit sie als Kämpfer einzusetzten wird nur durch ihre schiere Kraft übertroffen.

Giftklauen können nur im Trainingslager des Wasservorpostens ausgebildet werden, außerdem benötigt jede Giftklaue ein Atemgerät.

In Seen und Anthropuslager ab Lebel 7 oder höher können entsprechende Atemgeräte gefunden werden.

Giftklauen + 1 Langbogenschützen + Gepanzerte Luftschiffe
sind die idiale Kombination für Giftklauen. Langbogenschützen sorgen dafür, dass sich das Schlachtfeld ausdehnt, weshalb sich die Giftklauen verteilen können und nicht in einer Gruppe angreifen. Hier für wird nur 1 Langbogenschütze benötigt, mehrere schaden trotzdem nicht.

Ad blocker interference detected!
Wikia is a free-to-use site that makes money from advertising. We have a modified experience for viewers using ad blockers

Wikia is not accessible if you've made further modifications. Remove the custom ad blocker rule(s) and the page will load as expected.