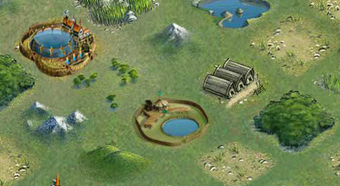 Der erste Schritt bei der Ausbreitung deines Imperiums! Die Geheimnisse liegen im Wasserdrachenei. Der Aufbau eines Wasservorpostens ermöglicht dir den Bau von weiteren Ressourceneinkommen. Die Ressourcen in Vorposten werden in Silos gespeichert und können eingesammelt werden sobald sie gebraucht werden. Dieser Vorposten wird vom Wasserdrachen bewacht. Elementdrachen sind viel stärker als jeder Großdrache. Du wird zusätzlich mit dem Training der Giftklauen in den Trainingslagern des Wasservorpostens beginnen können.

Das Ei des Wasserdrachens kann in den Seen ab Level 5 gefunden werden. Ein Großdrache muss jeden Marsch begleiten, der losgeschickt wird um ein solches Ei zu finden. Wasserdracheneier sind natürlich auch direkt im Shop erhältlich.


Finde eine Ebene
Edit

Der Abstand des Vorpostens zur Hauptstadt sollte groß genug sein, dass beide miteinander nicht umbedingt in Verbindung gebracht werden können. Allerdings muss ein Kompromiss gefunden werden, wenn man plant den Vorposten zu verstärken.

Nach dem das Wasserdrachenei gefunden wurde, wird eine Ebene benötigt, auf die der Vorposten gebaut wird. Hierzu sollte man wissen, dass die Anzahl der zusätzlichen Wildnisse, die man kontrolliert, abhängig vom Level der Ebene ist auf die der Vorposten gebaut wird. Dementsprechend sollte man warten bis man eine Level 10 Ebene erobern kann.


Bau des Vorpostens
Edit

Sobald man eine Ebene kontrolliert und das Wasserdrachenei besitzt, kann man beginnen seinen Vorposten zu bauen. Hier zu bietet Cassandra ein kurzes Tutorial an.
Neu mit den Posten ist das Silo-System. Zu beachten ist, dass man den Platz sinnvoll nutzen sollte. Baut so viele Silos wie möglich (die Anzahl der Silos hängt vom Lvl des Elementardrachen ab). Da die Ressourcen darin lediglich gesammelt werden und nicht in eure stündliche Rate einbezogen werden. Ihr müsst sie manuell einsammeln. Eine höhere Anzahl Silos kommt den Ressourcenverlust durch Überschuss also entgegen. 
Ad blocker interference detected!
Wikia is a free-to-use site that makes money from advertising. We have a modified experience for viewers using ad blockers

Wikia is not accessible if you've made further modifications. Remove the custom ad blocker rule(s) and the page will load as expected.